Puzzle pieces as a symbol for autism awareness have become infamous for their negative connotations, yet those puzzle pieces just keep popping up. 
Not to point the finger and scream "Ignoramus" at anyone donning the puzzle piece in support of autism awareness – mainly because, I was one of said ignoramuses when I searched high and low to find every single way in existence to support my autistic child in the loudest and proudest way.
Cue my husband panickedly telling me not to tattoo a "damn puzzle piece" on myself. A quick Google search showed that in this singular moment in time, good old Hubs knew what he was talking about.
It's not hard to see flaws in connecting autism to a puzzle piece. Pop on your high school English student hat for a moment and imagine what you teacher might urge you to consider.
Incomplete, puzzling, needing to be solved. So yes, there is definitely a problem here and it all comes down to a (hopefully) well-intentioned puzzle piece.
When and where on Earth did it even start?
Back in 1963 the National Autism Society donned the puzzle piece, with a child crying within that very piece. Wow, talk about painting a picture of living with autism. The symbol represents everything wrong with the misconceptions aligned with autism. What it shows is that autism is burdensome, sad, lonely and puzzling.
The problematic logo feeds into the offensive concept that autism is a "puzzling condition".
Fast forward and the current logo for Autism Speaks is a puzzle piece – yikes! Despite obviously copping copious amounts of flack on this "you had one one job" stuff-up, Autism Speaks is sticking to their guns and insisting the puzzle piece is the right move.
This whole thing kind of gives me the vibes of a racist great-aunt insisting that separate drinking taps just makes sense.
"The blue Autism Speaks puzzle piece has had a huge influence on raising awareness of autism around the world, which is why we believe it is still a worthy and effective logo. It represents the search for answers that will lead to greater understanding and acceptance of people on the autism spectrum, their diverse challenges, abilities and strengths," Autism Speaks said in a statement.
Issue #1: The falsehoods of autism being limited to children
The very reference of a puzzle piece alludes to games and links autism to childhood. This feeds into the devastating truth that, while awareness and support mat be in place for autistic children, this is certainly not the case for autistic adults.
A huge gap in support for autistic adults is in employment. According to the 2018 Census conducted by the Australian Bureau of Statistics, 38% of working age (15-64 years old) autistic people were in the labour force, compared to 84.1% of people without a disability.
"The unemployment rate for people with autism spectrum disorders was 34.1%, more than three times the rate for people with disability (10.3%) and almost eight times the rate of people without disability (4.6%)." – Australian Bureau of Statistics, 2018 
Excluding autistic people from the conversation about them is not a new problem – just ask Sia (or maybe, don't!). This means when the important decisions are made, they are being made without insight from the very people they impact. Considering that funding, research and support services ultimately impact some autistic people's ability to thrive or even survive in the world, it is incomprehensible that room at the table has not been offered to autistic people.
"We've excluded people with autism consistently from conversations about research and provision of services." – Kevin Stoddart, Director of the Redpath Centre, Toronto
With a huge focus on supporting autistic individuals through their childhood, the lack of concern for them once they hit 18 is bewildering. The puzzle piece causes a larger divide between being an autistic child and somehow being an adult not requiring support. The rift does damage to society's ability to support autistic individuals – at any age. 
Issue #2: The hurtful implication of being 'unfinished'
I'd like to point out that the personal irony I connect to this connotation of anything or anyone being "unfinished". This is because the thought of an unfinished book or task can be unfathomable to my autistic son. It is so undesirable to him and thus supports that the notion of being "unfinished" or "incomplete" is utter garbage.
Puzzles are, in themselves, puzzling. They are built to provide a challenge. They must be solved. Autistic people don't require solving or fixing.
Sometimes a few words hold so much power, that we publish them into the library of our minds, locked up and safe, yet ready to loan to those that need them. This was the case at a friend's wedding, when I had to take my son to the bathroom in excess of 20 times across the duration of the ceremony and the speeches.
Upon speaking with the bride and groom, I began to apologise for missing some of the highlights of their big day. The bride smiled and looked at my son adoringly, saying "we wouldn't change anything about you". The truth swept over me and it was a fact I already knew, yet strangely had never put into words. She was perfectly right. For him, those twenty visits to the loo were all-consuming and so very necessary. Why should those to-and-fros be limited because people were speaking into a microphone about things that did not concern him?
I have never apologised for any of his behaviours since (bar the time he stood outside the bathroom asking for a play-by-play from my other son's tutor – but that's a story for another day).
A puzzle piece reinforces the concept of autistic people missing a piece. But, missing a piece of what, exactly? Themselves?
"I don't need a puzzle piece to know I'm different. I saw it in the way I struggled to learn how to connect with other kids growing up, and I see it in how hard I work to get through social situations every day." – Richard Coffey, The Mighty 
The question of the right symbol
The puzzle piece is a no-go. Don't even try to change my mind.
Some alternative symbols have surfaced to replace the puzzle piece. As yet, a single symbol has not yet become the known symbol for autism advocacy and awareness.
Blue
The colour blue has gained traction and is becoming recognised as the colour for autism awareness.
While it was instigated by Autism Speaks and still surreptitiously clings onto that darn puzzle piece, it may be a move in the right direction.
The Butterfly
Representing the beauty within the autistic community, the butterfly almost hits the mark. Sadly, it is not immune to imperfections.
The butterfly is problematic only in the variations that still incorporate puzzle pieces into the butterfly design.
The Infinity Sign
Definitely ticking all the boxes, the infinity symbol was created in collaboration with neurodiversity advocates. Its first appearance was on Autistic Pride Day on June 18th, 2005.
"The use of a rainbow spectrum in the infinity symbol was designed to drive awareness of the diversity among neurodivergent individuals." – Autism Parenting Magazine 
A Rainbow Circle
After the discovery that the rainbow is actually a circle, not an arc, the rainbow circle surfaced as a symbol for autism.
Each of the colours in the rainbow circle symbol represent the numerous facets of being autistic. The interwoven colours show how differently these parts of being autistic mingle in different ways for each autistic person.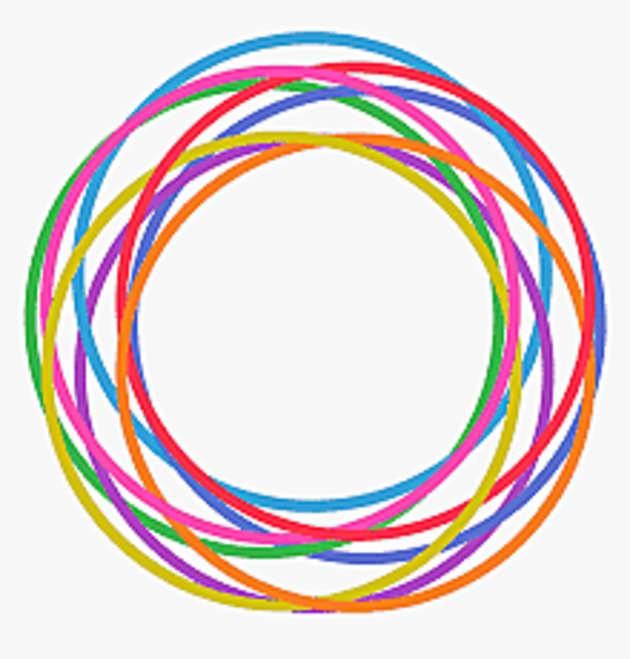 An organisation run by and for autistic people, ASAN (the Autistic Self Advocacy Network) modified this design into their logo. This modified version embraces similar imagery from the earlier rainbow circle design.
So where did we land on a symbol?
Is there really a one-size-fits-all symbol to support autistic people?
 "If you've met one person with autism, you've met one person with autism." – Dr Stephen Shore
Autism is a spectrum and each autistic person's experience is so incredibly different. Perhaps one symbol isn't the shoe that will fit every autistic person's foot.
My question here is, do we need one symbol? How about we let each autistic person decide which symbol they feel represents their experience as an autistic person?
Dictating which symbol must be assigned to the autistic community counters the very purpose of promoting awareness of autism. It is crucial to let the autistic community call the shots on how they wish to be represented by society.
Perhaps then, and only then, will autistic people begin to be represented accurately and fairly on a wider scale.
If you fancy some further reading on living with autism, Chloe Hayden's novel "Different, Not Less" is a must-read.